Pastor Matt Austin - -

gmail.com@zionpastora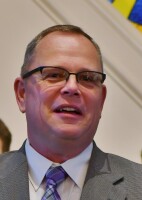 I was reared in a Christian home in southern New Jersey. After hearing a preacher preach about Hell and the good news of God's salvation through His Son, Jesus Christ, I became troubled in my heart.  The thought of Hell haunted me.  After being in bed for the night, I could not sleep. I came downstairs to my mother  and explained my difficulty.  She opened her Bible and led me to the Lord, and I prayed to accept Jesus Christ as my Saviour and became a new child in God's family. As I grew slowly over the years, God directed my parents to enroll me in a Christian high school. During my sophomore year, the Lord used the godly influence of my pastor and an evangelist to instill in me the realization of God's call to the pastoral ministry. Upon graduation from high school I followed the Lord's leading to Bible College where that call to ministry was confirmed and settled through an undergraduate and graduate degree in Ministry. My wife Karen and I met our freshman year at college and were married thereafter. She was raised in a Pastor's home, and has provided an amazing model for our two daughters and the local churches with whom we have served. God has allowed me to serve in local churches in the Northeast, Midwest and South. In 2020 God called us to Zion where He has opened many doors and has granted us the privilege of ministering to many souls for Him. It is my desire to be a fervent witness of the good news of Jesus Christ to the souls of Sanford, NC and the surrounding communities. Karen and I have two grown daughters, Jennifer and Kate. Jenn is married to Joey and they have one daughter, Felicity.  Kate is an elementary Christian School teacher in Pennsylvania. They are serving the Lord in their churches out of state. 
My burden for Zion Christian Church can be summed up in these words: "In a culture where churches are attempting to reach people by means of cultural relevance, I believe that the clear teaching and application of the Word of God is the method by which the Holy Spirit will save the lost and grow His people. As Christ prayed for future believers in His high priestly prayer in John 17, my prayer is that God will be glorified and continue to build His church at Zion Christian Church."